Andheri innovation, a success in Nashik
Posted On Saturday, May 24, 2008, Times of India, Mumbai Westside Plus
Virat Singh SV Road
WSP had reported in the Earth Day special ('Lo(o)sing the stink!' -April 19) about the innovation of an eco friendly toilet by Vag Shantaram Shenai that worked on bio-sanitizer, a concept that's reaping results in the neighbouring cities like Nasik, and may soon feature in the suburbs.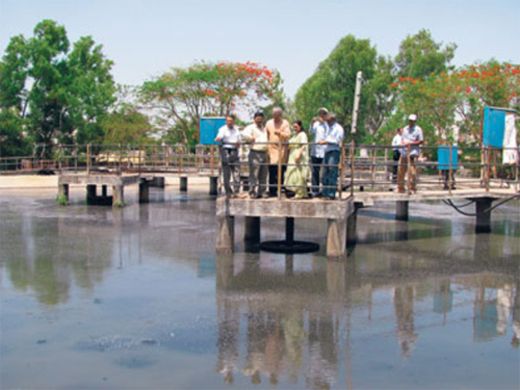 It took just one visit to Green Cross Society, (GCS) at Versova Pumping Station for officials from Nashik Municipal Corporation (NMC) to believe that Dr. Uday Bhawalkar's Biosanitizer is the perfect answer to treat sewage.

NMC is today running pivotal pilot projects at three (Morvadi-4.5 MLD, Tapovan-39 MLD and Chehedi-22 MLD) of its Sewage Treatment Plants (STP) where it is ecologically treating sewage after installing Biosanitizer. The results in the last few months, they claim, are astounding.

Confirming this development to a visiting delegation team, Satish Magare, Deputy Engineer (Mechanical) Compost plant, NMC was all praise for Commissioner Vilas Thakur's support. "The biggest achievement is turning off all the four aerators at our 4.5 MLD Morvadi STP since the introduction of biosanitizer in the system. We are not all only saving electricity bills that used to run into lakhs annually, but also the high maintenance of the aerators."

Magare shoots down any speculations on the adverse effects of a switched off aerators on the treatment of sewage. "The usage of biosanitizer made it possible to turn off the aerators as it encouraged the creation of need-based oxygen from within the sewage," explains Satish Magare.

He adds that the introduction of biosanitizer at three STPs helped to correct the toxicity of the treated sewage, and he points out to the growth of plants, fishes and presence of birds visiting it as bio indicators of the absence of toxicity. The use of the ecological innovation has also helped to erase the pungent odour and foaming in the area.

"I have been working at the Morvadi STP for 14 years, but I have seen nothing like this before. It was difficult for us to breathe in this area due to the overpowering stench; workers and local residents fell sick because of it. But since this pilot project took off, there's been stench," states S.R Devere, electrician and site incharge.

Avinash Dhanait, Deputy Engineer (Mechanical division) points out that tomatoes, sweet potatoes, mustard, pumpkin and other vegetables have started growing on its own in the sludge at Morvadi.

Sanjay Motale, Chemist working at the Tapovan STP, says that the marked difference between an ecologically treated sewage and conventionally treated one can be in Tapovan. "Foaming can be seen in a sewage treated conventionally, while no such thing is present a sewage treated ecologically with biosanitizer. Even the quality of water is good in the latter one," says he.

When asked to comment about the future of the pilot project, NMC Commissioner Vilas Thakur said, "We are still carrying out detailed research on this project and will be able to present a much clear picture very soon."

The delegation team from the suburbs that visited Nashik included Vag Shantaram Shenai of GCS, Dr. Prachi Bedekar M.D from C.M.P Homeopathic Medical College at Irla, Janak Daftary an IIT Alumnus, Dhimant Joshi of Gir Govindam and this reporter along with Vijay Sulkar Director of 3-R Management who has just shifted his base from United States to Nashik.

virat.singh@timesgroup.com
http://www.mumbaipluses.com/westsideplus/index.aspx?page=article&sectid=1&contentid=
2008052420080522142331838648c8092&sectxslt=&comments=true