BIOSANITIZER Ecochip Features, honoured by Bry-Air Award
Bhawalkar Vermitech Pvt. Ltd.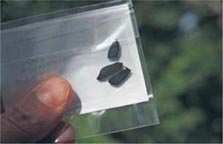 BIOSANITIZER Ecochip
BIOSANITIZER Ecochip offers a novel remedy to the challenge of desalination and tackles the TDS build up problems like Scaling, corrosion bio fouling, etc in water circuit, by converting salts into resources.
The Ecochip is actually 'ecology on a chip'. 100 mg of BIOSANITIZER ecochip has the same capability as one acre of natural forest, of using inorganic nutrients(salts) and CO2 as food and produce eco resources.
BIOSANITIZER Ecochip:
Developed through 36 years of research 'in collaboration with Nature'.

TDS build-up problems such as scaling, corrosion, bio-fouling, algal growth and growth of hazardous legionella bacteria, are solved because these are due to nitrates.

At low nitrates, bad salts also become good salts and these can trap greenhouse gases, to produce resources. Water becomes useful for cooling towers, irrigation and for fire-fighting.
Applications of BIOSANITIZER Ecochips are:
Treatment of groundwater, including saline and brackish water

Treatment of seawater (90%) and organic wastewater (10%) to get water for agriculture, percolation into a shallow well gives desalinated sweet water. Here, salts are utilized as plant nutritients.

Effective water/wastewater treatment with total recycle, no production of toxic sludge or greenhouse gases

TDS management in cooling towers, without blowdown.
http://www.bryair.com/Newsletter/Jan-Feb-Mar2010/highlight.html