BIOSANITIZER ECOTECHNOLOGY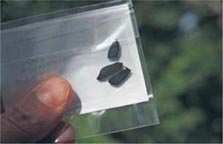 Turning Pollution into Profit
Theme

Nature is a logically designed control system.

Each organism acts as a biosensor, bioindicator and biocontrol agent.

Odour, pathogens, pests, etc. act as crisis indicators of nature.

Nitrates and CO2 are the prime resource for plant production.

Waste of nitrates and CO2 is the root cause of pollution.

BioSanitizer

Converts pollution into profit.

Goes to the root cause of pollution.

Natural enzymes immobilised on stable carrier

Use of BioSanitizer

Available in 100 mg packets, prices vary as per grades(BS8, BS9 and BS10).

Works without getting depleted for several years at steady operating conditions.

Put into the water tanks, wells or borewells.

Keeps the source of water clean and produces Eco-water.

Eco-water is more effective in the form of atomised spray.
Pollution Indicator

Remedy

Benefits

Poor plant growth

Seed treatment or irrigation with Eco-water

Better productivity and produce quality

Pests in agriculture

Irrigation with or spraying of Eco-water

Reduced expenditure Non toxic

Poor animal growth

Drinking of Eco-water

Better productivity and health

Pests in animal husbandry

Eco-water spray on skin, in shed and on food

Reduced expenditure

Non toxic

Sanitation pests

Eco-water for cleaning and spraying

Control of odour, pathogens and pests

Household pests

Eco-water for cleaning and spraying

Pest control without poisons

Food spoilage

Eco-water for cleaning and spraying

Food preservation Enhancement of quality

Human health problems

Eco-water for drinking and cooking

Healthy body

Creative mind
Pollution Indices

chemicals leaking into air

chemicals leaking into water

chemicals on land

conventional sewage treatment

conventional composting

fires due to auto-ignition

natural toxins

odor and pathogens

combustible liquids and gases

bioelectricity

assaulting and biting animals

blood-sucking animals

thorns, horns

alkaloids, naturally produced

essential oils

liquid polymers(natural)

bioluminescence

beaks, nails, hooves

skeleton(plant or animal)

fibers, hair, feathers

skin(plant or animal)

food from water

food from land

BioSanitizer Ecotechnology
BioSanitizer can be used cost-effectively to bring down the pollution index from a high value(even 100) to 0.
One can notice from the above table that land, water and air have varying ability to remediate pollution, in a decending order. It is sad that we use air for most discharges, followed by water.
Incineration should never be allowed because it shifts the pollutants into the air.
For more information contact:
Dr. Uday Bhawalkar, Director
Bhawalkar Vermitech Pvt.Ltd.
A-1, Padma Park, Behind Padmavati Temple
Pune-Satara Road, Pune- 411 009, INDIA
Phone: +91-20-2422-5208/2422-6916
E-mail: ecobhawalkar@gmail.com