Biosanitizer to fight Swine Flu
Reporter
Monday, May 18th, 2009 AT 11:05 AM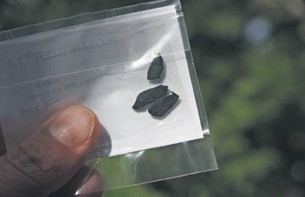 Uday Bhavalkar's eco-friendly product biosanitizer
PUNE: Known as pioneer in initiating the solid waste management concept in the city, chemical engineer-turned-environmentalist Uday Bhawalkar has developed an eco-friendly product called Biosanitizer to prevent epidemics like Swine Flu and Bird Flu by detoxifying the animal feed.
"Emerging epidemics, such as the bird flu are due to overloading our food with nitrates. Each virus needs a bandwidth of nitrates. Only when our body goes into this high bandwidth, we get affected. Many of our basic food needs are derived from animals or birds like meat and milk. It is essential to sanitise this food source," Bhawalkar told Sakal Times.
By using the Biosanitizer to treat the animal feed, their drinking water and also by using the "biosanitized" water for drinking, cooking, cleaning, etc it will be easier to stay healthy and not worry about the emerging modern epidemics, he said. "This is useful for those practising large scale animal husbandry and poultry business. Once the treated feed and water is consumed by cattle, goats and chickens it would ensure that chances of people consuming contaminated food is lesser."
Biosanitizer is a naturally produced catalyst that continues to produce need-based amount of active oxygen and drives eco-logical reactions that clean polluted water (surface water, groundwater and wastewater). This oxygen-rich water also becomes a resource for ecosanitation.
"It can be sprayed to sanitize soil, garbage heaps, medical waste, and animal carcasses. The spraying also controls odour, pathogens, and pests. It is a non-recurring input and can be placed in a well, bore well or a water storage tank to obtain treated water. Pigs or swine generally eat garbage, which has bacteria. The treated garbage can prevent transmission of swine flu," he said.
"Sanitation problems arise due to nitrates, hence nitrate management is crucial. Conventional nitrate management techniques consume organic food and oxygen, to produce CO2 and waste heat. Nature prefers another reaction, i.e., combining nitrates, CO2 and waste heat to produce organics and oxygen. This is a resource-generating mechanism, while conventional denitrification is a wasteful reaction," the environmentalist said.
According to him, one gram of this product has the capacity of 1 acre of rich forest, in terms of its nitrate control, CO2 trapping and oxygen production.
http://www.sakaaltimes.com/2009/05/18114014/Biosanitizer-to-fight-Swine-Fl.html