Quote" D.N.A. Mumbai, Page 5, 01st April 2008
Going natural in search of pure water
Ashutosh Shukla
Marine Drive residents have employed the eco-friendly
Bio-sanitizer to improve water quality
MUMBAI: The search for better quality of water has led some Mumbaikars to draw inspiration from Nature.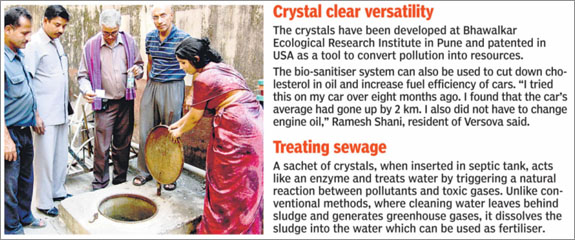 Around 25 individuals and a few housing societies, including the ones in Marine Drive, are employing this new technique — BioSanitizer crystals — to curb the breeding of mosquitoes in water storage systems, removal of bad odour and heavy metals and increase the life of water without producing any greenhouse gases.
BioSanitizer is a natural, granular catalyst that can be used without any recurring expenses. It helps to get rid of nitrates, pesticides, heavy metals and pathogens found in an eco-friendly manner.
Anil Bhatia, who has used the technique in his building in Marine Drive over the last one month, said, "Municipal water is potable, but to some extent it is not as pure. The deposits it leaves behind when stored in copper utensils and the corrosion of the vessel says a lot about the water's quality."
Uday Bhawalkar, advisor to department of Science and Technology, Government of India who developed the system, said, "I wanted to come out with a system where toxic material and pollutants act as fertilisers. The crystals are like catalyst. They act like biological machines, creating chemical reactions."
"We basically work on nitrates, which are one of the major concerns," said Shantaram Shenai, Bhawalkar's associate.
"I wash my walls with water from the system, sprinkle it on garbage and use it in my garden. It helps to drive mosquitoes away," said Dhimant Joshi, a resident of Dahisar who has been using the system for four years. He spent Rs4,000 on it. "But it is a one-time expense. I have saved Rs.1,500 yearly on maintenance of filter guards," added Joshi." Quote ends